Da Boom Crew is a Canadian/American children's television animated series, first shown on Kids' WB and Cartoon Network UK. This animated series was canceled after only four episodes were broadcast. However, in the United Kingdom, 13 episodes were broadcast.
The program was produced by Berliner Film Companie in association with Jambalaya Studios in Los Angeles, California.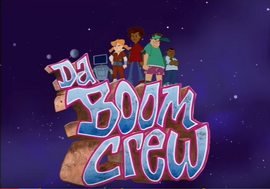 Four children create a homemade video game, and a supernatural vortex sucks them into a world similar to their game. The show details their adventures in this parallel world. They embark on a quest to find their missing game cartridges and stop the villain Zorch from taking control of the cosmos.[1]
Season 1: 2004
Edit
Release Order
Title
Original US airdate
Episode Number
1
Droppin' Da Bomb/It's Not Just a Game
September 9, 2004
101
Justin and his friends are transported inside a video game world where they discover a parallel universe.
2
Statue of Limitations
September 18, 2004
102
Da Boom Crew, en route to taking a fruit basket to the Protector to save a drying planet, meet a mysterious little girl.
3
Junk Planet
September 25, 2004
103
The Boom Crew travel to a planet filled with junk.
4
Frogday Afternoon
October 1, 2004
104
The Boom Crew are suspended for intruding on a frog festival.
5
Wanted!
Not shown in US
105
The Boom Crew are mistaken for the notorious "Grargon Gang."
6
Boom vs. Doom
Not shown in US
106
A mad inventor traps the Boom Crew inside his massive ship in order to use the Boom Carts to power his ultimate doom weapons.
7
Planet of Lost Lives
Not shown in US
107
After getting sucked during the Big Boom while getting a loser skull, Tommy ends up on a creepy planet and gets turned into a zombie!
8
Baby Boom
Not shown in US
108
The Boom Crew become workers in Headlock's outer space mine when they try to reunite an alien baby with its parents.
9
Ice Ice Planet
Not shown in US
109
The Boom Crew land on an ice planet and end up damaging a shield protecting villagers from the cold. They have to fix it before the villagers freeze.
10
The Crimson Raider
Not shown in US
110
Commander Blurp joins the Boom Crew on a mission to explore an ocean planet where a Boom Cart is suspected of creating havoc with the sea life. But things are complicated when the gang encounters a villainous space pilot known as the "Crimson Raider."
11
The Legendary Meemawzaza
Not shown in US
111
The Boom Crew encounters a legendary warrior and must complete a series of chores in order to procure a Boom Cart. But the kids' skills are put to the test when Headlock and Etra arrive along with a villainous new weapon.
12
The Hour of the Clipse: Part 1
Not shown in US
112
As Planet Yo-Diggity prepares to celebrate Freedom Day, the Boom Crew embarks on a mission to retrieve supposedly the last Boom Cart where they encounter a group of young alien orphans and their mysterious leader, Dexx Arbolean. In their absence, Zorch manages to steal all the Boom carts they were saving.
13
The Hour of the Clipse: Part 2
Not shown in US
113
As Yo-Diggity celebrates Freedom Day, the Boom Crew embarks on their most dangerous mission yet. They infiltrate Zorch's ship and retrieve the stolen Boom Carts. The Boom Crew realize that the alien orphans' parents are still alive and are being kept captive by Zorch. As Zorch finally takes control of Yo-Diggity, the Boom Crew meet up with Dexx and the other orphans requesting their help. The episode ends with Dexx stating he knows where they can find one final Boom Cart.
NOTE: The series ended on a cliffhanger due to low ratings.
Characters
Edit
References
Edit
External links
Edit